About Us
Dixon Studio was founded in 1991 and is headquartered in the Shenandoah Valley of Virginia with offices, showrooms, gallery, design studio, and fabrication & restoration workshop open by event or appointment.
In addition to custom and catalog works for the church in a variety of media, the studio handles some of the finest church antiques and artifacts, from a variety of American and European sources.

All items are in good or excellent condition and require no major repairs or restoration. Some show their age with minimal surface cracks or nicks and a rich patina of devotion from a century of use, surrounded by candles, incense, and prayers.
These church antiques and artifacts are exquisitely crafted with detailed handiwork that is rarely available or affordable today. They are worth more than current catalog offerings and cost less than new custom works.
We welcome your call or email regarding any of the items showcased here or to inquire about additional inventory.
Dixon's Church Antiques
has been entrusted with helping an old friend
break down his rectory
as he downsizes and settles into retirement.
Turns out, our favorite Irish priest
was quite the art connoisseur!
Take a look at the first postings,
make an offer,
and check back for more to come...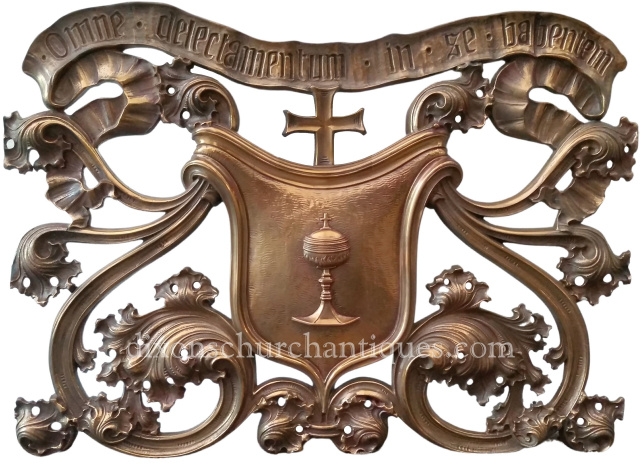 Our Latest Favorite Find!
high contrast bas-relief casting
suitable for a high altar or reservation chapel
banner reads
Omne delectamentum in se habentem
from the Tantum Ergo by St. Thomas Aquinas
25" wide, 18" high
Click here to find out more.